Symbols In Ethan Frome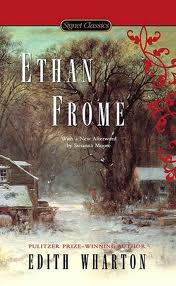 Symbols in Ethan Fromeresearch paper due and don't know how to start it? How about like this?
Edith Wharton uses symbols as a literary element to convey the themes in Ethan Frome. One of the recurrent symbols in Ethan Frome is that of winter. It represents the sterility of Ethan's life. Winter is a time when nothing grows and being unprotected can mean death. Ethan's whole life is like he is trapped outdoors in winter. There is no warmth in his home and he and Zeena have no children. His daily existence sucks the life out of him just like a cold day would suck the warmth from his body. The symbol of winter is echoed by the name of the town, Starkfield, which implies that the whole town is barren and trapped by the winter of social strictures.
Another symbol in Edith Wharton's novel is that Mattie wears red. Red is the symbol of sin, which is exactly what Ethan has in mind, but more importantly, it is the color of blood, and thus of life. It is the opposite of winter. It is also the color of passion. In a world of featureless white, the red of Mattie's scarf stands out as a simple, yet great beauty.
The sled ride that cripples Mattie represents the way Ethan lives his life without taking responsibility. His days are a downhill trip to disaster. Even his suicide attempt occurs at Mattie's request and is not really an action so much as an ultimate rejection of action. Wharton uses this symbol to show that refusing to control one's destiny just leads to greater suffering for oneself and others.
The novel Ethan Frome won a Pulitzer prize after it was published in 1911. It was later made into film in 1993.
Symbolism in Ethan Frome
Symbol
Object
Object
Object
Meaning
The Color Red
Pickle Dish
Mattie's Scarf
Red Ribbon
Color of Sin and Transgression
The Cat
Breaks Zeena's Pickle Dish
Sits in Zeena's Chair
Looming Presence, a Stand-in for Zeena
The Sled Run
Discussing
First Run
Final Run
Lack of Control, Destiny
Related Research Paper Topic Suggestions