Robert Jordan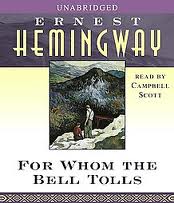 The main character of For Whom the Bell Tolls, Robert Jordan, is a great literature research paper topic. Through Hemingway's essay on Robert Jordan, you can write about how Jordan tries to shake off and deny the superstitions around fate that has him pegged to soon die - the issues remain with him and grow. From the story's start, Jordan and the gypsy matron Pilar wrestle over fate and the supernatural ability to foresee and influence it.
Themes that you can examine in your research paper on Robert Jordan may be:
Robert Jordan is a man in transition
The importance of the individual
Jordan's love for Maria
Jordan and the meaning behind the title "For Whom the Bell Tolls"
Robert Jordan and Fate
When Jordan says that he will take Maria away "... after the bridge... if we are alive after the bridge..." Pilar upbraids him saying that speaking of one's death "... never brings luck". When Jordan scoffs at Pilar's gypsy superstition, the older woman asked to see the palm of his hand. From this point onward, as the plot unwinds, the fate of the book's hero is strongly suggested as Jordan increasingly falls into romantic contemplation and reflection on fate, duty, life, and death. When Pilar reads Jordan's palm, Jordan "... knows, and of course we know, what she has seen... his coming death". Though Jordan outwardly dismissed the ominous palm reading that Pilar gave him, the reader sees the premonitions and doubt in his thoughts from that point on.
Related Research Paper Topic Suggestions