of Mice and Men Summary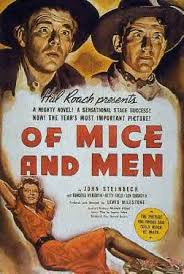 George and Lennie are two migrant workers in California during the Great Depression in John Steinbeck's novel Of Mice and Men. Where Lennie is small and dark, George is a giant of a man, but mentally handicapped. As the novel opens, they are walking towards a farm where they are hoping to be hired on. George discovers that Lennie has been keeping a dead mouse, because he likes to stroke soft things, but often inadvertently kills them. George then tells Lennie of their dream: of owning their own farm where Lennie can tend the rabbits.
George and Lennie are hired, but George lies, telling the owner that they are cousins and that Lennie had been kicked in the head by a horse as a child. They meet Candy, the old-timer, and Curley, the boss' mean-tempered son. They also meet Curley's wife, who is never actually named. Lennie thinks that Curley's wife is pretty, but George senses that she is trouble.
Lennie is given a puppy, but he accidentally kills it. Curley's wife discovers Lennie petting the dead dog in the barn one day, and he tells her how he likes to pet soft things. Curley's wife offers to let him pet her hair, but when he grabs too tight, she screams. As Lennie tries to keep her quiet, he accidentally breaks her neck. George and Lennie flee the ranch, and, in an effort to keep Lennie out of jail, or worse, shoots Lennie in the back of the head by the banks of the Salinas River.
Related Research Paper Topic Suggestions