Invisible Man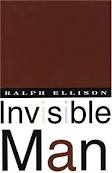 Invisible Man research paper due and don't know how to start it? How about like this?
Research Papers point out that the important part imagery of vision has in Ralph Ellison's Invisible Man is evident from its title. The title "Invisible Man" refers to a major characteristic or quality of the narrator and also to how other characters act toward him. The main character not only feels invisible, he is treated as if he were invisible.
At times, the narrator in Invisible Man actually is not seen clearly as an individual. This aspect of his invisibility is shown by the incident in the "Prologue" of Invisible Man where the narrator describes his assault on a man who attacked him. The narrator, whose real name is never given, accidentally bumped into a man one night. When the man called him an insulting name, the narrator "sprang at him [and] seized his coat lapels and demanded he apologize." The tall blond man would not apologize, however. The narrator's face came close enough to his so that he could feel the man's hot breath on his face. The narrator butted the man with his head until the man was bleeding when he would not apologize. Preparing to cut the man's throat with a knife he was opening with his teeth, the narrator realized that "the man had not seen me." Ellison italicizes the word "seen." Within the first few paragraphs of the "Prologue" at the beginning of the novel, Ellison emphasizes the part sight or vision will play in it. Blindness and eyes are aspects of the elements of sight or vision.
The major, underlying theme in The Invisible Man is one of racism.
Racism sours the narrator's dealings with other people, both black and white, and his attempts to discover his sense of self.
In each of the communities in which the narrator lives he finds himself confronted by differing ideas of a black man's role in society.
The narrator attempts to define himself according to these differing views before finally realizing it is an impossible task.

In each specific situation the narrator finds himself struggling to act in ways that are condoned by those around him. He is grateful for the scholarship even though he is degraded as an individual by those who award the scholarship. As a member of the Brotherhood he tries to speak out for racial equality only to be hushed by those supposedly wanting the same thing. Moreover, he discovers that he is little more than a "token" black man in the eyes of the Brotherhood. Regardless of where he is or whom he associates with he cannot get others to see him as a unique individual. This leads the narrator to conclude the world is filled with "blind" people who cannot see past the color of his skin or the value he possesses simply by being a human being.
Related Research Paper Topic Suggestions