Huckleberry Finn Themes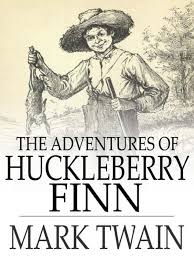 Mark Twain's The Adventures of Huckleberry Finn is a novel that continues to be read in high schools and colleges across the United States. Perhaps the most famous and complicated of all of Twain's work, Huckleberry Finn contains a number of important themes. The most obvious theme in the novel is the conflict between nature and civilization.
Huck is the embodiment of the natural life, raised without discipline and hostile towards anything that might "sivilize" him. In the very first chapter, Huck rebels against the Widow Douglas, who forces Huck to wear new clothes, read the Bible, and give up smoking. Twain is suggesting that civilization is a corrupting, rather than an uplifting force, and thus Huck runs away on his river journey.
Connected to the idea of civilization being a negative force is the notion that many of the main characters are slaveholders. Although Twain wrote the novel after the Civil War, by having one of the two main characters (Jim) being African American, he was demonstrating that those victimized by slavery were often more noble than those who justified its existence.
Ultimately, Huckleberry Finn is a classic example of a Bildungsroman, a novel that uses the physical journey as a metaphor for coming of age. In the end, Huck finds his own moral path that does not necessarily conform to the rest of society.
Related Research Paper Topic Suggestions
Altering Huckleberry Finn - The current issue with Huckleberry Finn is the use of the word nigger, which Twain managed to pepper throughout the novel. Explore censorship issues with a Huckleberry Finn research paper.
Freedom in huckleberry finn - Freedom in Huckleberry Finn research papers show the symbolism of the raft in Huck and Jim's adventure.
Huckleberry Finn - Huckleberry Finn research papers tell of Huck Finn and Tom Sawyer and the many themes within the novel such as race, freedom and life during the time of Mark Twain.
Mark Twain - Mark Twain research papers may focus on Twain as an inventor or as the writer of such stories as Huckleberry Finn and Tom Sawyer.
Social Class In Huckleberry Finn - Research papers from Paper Masters on social class in the novel Huckleberry Finn, by Mark Twain, illustrate that there were four main social classes outlined throughout the novel. Have them explained or any other topic on Huckleberry Finn you need.
Symbolism of The Raft - Symbolism of the Raft in Huckleberry Finn research papers analyze the raft as a symbol of freedom in Mark Twain's famous novel.
Tom Sawyer - Tom Sawyer research papers from Paper Masters explore Mark Twain's tale of boyhood with many poignant American literary themes.