Foreshadowing and Irony In Flannery Oconnors Works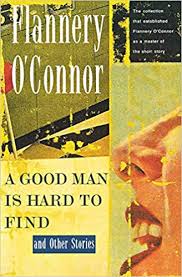 To foreshadow is to give a hint or a suggestion of a forthcoming event. Irony, is the inconsistency between what actually happens and what is expected to happen.Writer Flannery O'Connor uses foreshadowing and irony to great effect in her story "A Good Man Is Hard to Find."
Literary Devices in O'Connor's Work
Literary devices are represented very early in A Good Man Is Hard to Find, and serve to set the tone for the piece. The first hint of trouble comes early in the first paragraph, when the grandmother tries to show Bailey a newspaper article about "The Misfit", a convict who has escaped the penitentiary and is en route to Florida. She tries to discourage Bailey from taking the family there; "I wouldn't take my children in any direction with a criminal like that loose in it. I couldn't answer to my conscience if I did".By mentioning the convict, O'Connor brings an element of trepidation to the story. Bailey, not only dismisses the threat, but ignores his mother completely, as to confirm the reader's own instinct that the chances of encountering the Misfit are slim. The Grandmother's statement also smacks of irony, in that she was ultimately responsible, albeit unknowingly, for leading "her children" into the direction of their demise. And one may wonder where that sensitive "conscience" went when later she realizes that the plantation is not in Georgia but Tennessee and yet decides to say nothing. Irony is also evident when John Wesley says to his grandmother, "If you don't want to go to Florida, why dontcha stay at home". The irony being that had she stayed home, they would have avoided the very danger she was warning them about.
Paper Masters' Suggestions for How to Write a Flannery O'Connor Research Paper
Compose your research paper on foreshadowing and irony in Flannery O'Connor's work in the following way:
highlight an element of literature (theme, character, setting, conflicts, etc.) and at least three (3) works from two other genres to support your ideas.
You could choose two poems and a play; two short stories and a poem, a poem, a play, and a story, etc.
Use a scholarly study of literature connects or compares works from different genres by using one literary element.
This may be difficult but find a way to connect or compare one literary work to two others. Reading the notes taken in your class may help. Analyze the specific element in the selections with some depth. Support points with appropriate examples from the selections and explain how the examples support those points. You do not need resources outside the course materials for this essay; however, you must cite the works you use from the texts.
Related Research Paper Topic Suggestions