Speech Impairment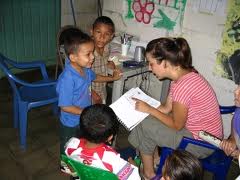 A speech impairment is the inability to produce normal speech sounds, ranging from mild to severe. Some common speech disorders are stuttering or lisps. There are several types of speech impairments, including articulation disorders, fluency disorders, or voice disorders.
An articulation disorder is defined as the atypical production of sounds and is characterized by omissions, substitutions, additions or distortions that interfere with the intelligibility of speech. Fluency disorders are an interruption in the flow of speech, and are generally characterized by an atypical speech rate, rhythm or repetition. Voice disorders are generally an abnormality in pitch, volume or vocal quality that is age inappropriate. Speech Impairment research papers have been written by education experts. We can produce a custom written project following your guidelines.
Causes of Speech Impairment
There are numerous causes for speech impairments, and frequently the exact cause remains unknown. Physical causes such as hearing loss, cleft lip and palate or brain injury are easily diagnosed, but child abuse has also been known to lead to speech impairments.
In the United States, children with speech impairments are generally treated with speech therapy, including work on:
Phonation (producing sound)
Resonance
Pitch
As well as the various components of language.
Children with speech impairments frequently struggle with both communication and academics throughout their career and are often the targets of bullying.
Related Research Paper Topic Suggestions
Articulation Disorder - Articulation Disorder research papers examine the physical processes involved in the production of speech and look into what causes difficulties in speech and pronunciation.
Language - Language Research Papers look at the different ways in which we use language in society.
Language Delay - Language Delay research papers examine the occurence of delays in speech development amongst children.
Language Development In Children - Language Development in Children research papers discuss the four areas of child development.
Language Disorder - Language Disorder research papers examine the difficulties an individual with a language disorder has with processing linguistic information.
Language Skills - Language Skills research papers examine the language skill development from infancy and early childhood, when human capacities for language learning are immense.
Nonverbal Learning Disorder - Nonverbal Learning Disorder research papers look into the neurological disorder that displays a significant discrepancy between higher verbal skills and the lower skills such as motor skills, visual-spatial, and social skills.
Speech and down syndrome - Speech and Down Syndrome research papers examine problems with down syndrome children for educators.
Speech Delay - Speech Delay research papers discuss the behaviors of children with speech delay and examine the possible causes.