Adult Literacy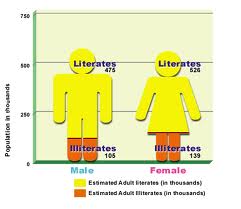 Adult Literacy research papers have been written by our writers. This is just a sample introduction. We will produce a custom written research paper following your specifics.
Adult literacy lies at the heart of many social crises in the United States, including crime, unemployment and poverty. According to the Pro Literacy Organization, it has been estimated that as many as 14% of US adults over the age of 16 read at or below a fifth grade level, and only 29% of the adult population reads at an eighth grade level. Among those segments of the US population with lower literacy rates, almost half live in poverty.
Literacy means that a person is able to read and write. People who are unable to read and write are called illiterate. People who are literate are able to read and understand both text and symbols. The most important aspect of learning literacy is the development of reading skills. Literacy begins with the understanding of verbal communication and then the transfer of that meaning to written symbols or letters. Once a person has the ability to make sounds from letters they start to combine those letter sounds into words. Literacy is not just the ability to read a word, but to construct the meaning of that word. For instance, a person can read the word door but if they do not make the connection between the written word and its physical meaning, they are considered illiterate. Once a person is able to read words, those words are strung together to form sentences, then paragraphs, then stories and books.
An awareness of grammar
Spelling rules and patterns
Reading fluency (Fluency is the ability of the reader to read the text smoothly, at a constant speed, and with the required emotion.)
Adult Literacy
in the US
In the United States, around fourteen percent of adults read at or below a fifth grade reading level. Around twenty-nine percent of Americans read no higher than an eighth grade level, many of them living in poverty. On a global scale, around sixteen percent of the world's population is illiterate, and two thirds of them are women. A majority of the world's illiterate population lives in South and West Asia.
Further, low adult literacy rates can be found in the corrections system. Fully seventy-five percent of inmates at state prisons and fifty-nine percent of federal prisoners are classified as being illiterate or having failed to graduate high school. Some 30 million adults in the United States cannot read or write or perform basic mathematics better than the average third grader.
Individuals without basic literacy skills are more likely to struggle with such issues as employment, and are subject to low-paying jobs that fail to keep them out of poverty. Additionally, adult literacy issues impede the individual's ability to make appropriate decisions regarding health care, and contribute to a greater chance of unnecessary hospitalization, rising health care costs in the United States.
Adult Literacy: A Crisis
Adult literacy is a global crisis as well. Sixteen percent of the world's population is classified as illiterate. Of that group, two thirds are women. Half of the world's low literate population is in West and South Asia.
Current research shows that American's in general have a declining rate of proficient literacy, even those that are college educated. The United States ranked sixteenth out of twenty-three countries in literacy.
Related Research Paper Topic Suggestions