Collaborative Teaching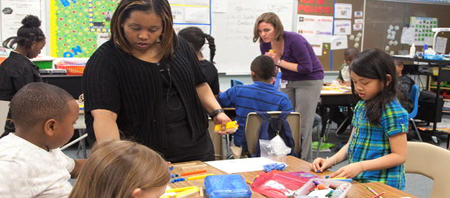 A well written introduction for a research paper on collaborative teaching could begin:
There are various models of collaborative teaching, but all consist of two or more teachers sharing in various methods the teaching of a subject or subjects to a group of students who may be in primary school, secondary school or college. Researchers have described five types of collaborative teaching:
In lead and support, one teacher is the leader who plans the lesson, and the other plans and offers support to individual students or small groups.
In station teaching, students are grouped at stations and move periodically. Each teacher plans his/her stations.
In parallel co-teaching, teachers plan together, then each gives his/her lesson to half of the class.
In alternative co-teaching, one teacher instructs the larger group while the other re-teaches or supplements the smaller group.
Finally, and considered the highest level of collaborative teaching, is team teaching, where both plan and instruct the students in a coordinated way.
According to Breakthrough Collaborative Organization many different definitions of collaborative teaching exist, some descriptors of the classroom environment while others focus more on the theoretical or structural foundations of the program. Most are compatible, describing a consistent theme. Collaborative teaching is typically described as a system of delivering special education services to students in the regular education environment, providing support through the employment of two teachers in the same classroom, one special and one general education certified. Both teachers share classroom responsibilities and work together to plan lessons, design classroom activities, cover content, evaluate progress and implement standard and specially designed instruction.
What is Collaborative Teaching
While collaborative teaching appears to take the burden off the individual teacher, it calls for effort not only in lesson planning, but in relationship building, and development of effective style of teaching so that both teachers and students gain from the concept. Other collaborative teaching is tag-team and shared teaching, linked courses approach, and paired or connected courses that teach interdisciplinary materials. With work and coordination, collaborative teaching is an effective strategy.
Collaborative teaching goes beyond the simple physical factor of having two teachers in a single classroom. In co-teaching neither professional is relegated to the position of paraprofessional, so instead two professionals much work share the responsibilities usually instructed to a single person. In short, co-teaching requires collaboration. Co-teaching depends almost completely upon a collaborate relationship between the two teaching partners. The relationship between the educators is the core of co-teaching and requires significant time and commitments from both. Success, or conversely failure, of a co-teaching venture is often reported to depend upon a teacher's personality or style; unfortunately, many teachers lacked clear definitions of collaboration and co-teaching.
The Collaborative Teaching Relationship
It is no coincidence that collaborative teaching relationships are often compared with marriages in the literature. Like any other commitment in which people share a common space and goal for a long period of time, all of the little details about who one is and what he/she believes becomes very important in collaborative teaching. It is both the underlying philosophies and seemingly little things which can break a marriage, or collaborative teaching relationship. Possible sources of conflict include positions on instructional beliefs, use of time, classroom routines and rules of discipline and confidentiality, defining roles and providing feedback.
This does not mean to imply that only like teachers may collaborative teach successfully. In fact, different styles can also compliment one another. However, collaborating individuals need to know their own strengths, weaknesses and predilections. Anticipate possible challenges by getting to know partner, assessing compatibility and openly acknowledging and discussing areas of discordance. Research promotes the use of tools such as the S.H.A.R.E. worksheet which allow new co-teachers to pro actively explore their perspectives and expectations and reach needed compromise in the planning stages rather than letting power struggles or harsh feelings fester in the classroom. Realistic expectation, developed thorough the process of actively acknowledging one's preconceptions, biases and philosophy, can east the collaborative process.
Collaborative teaching has been called everything from a direct means of special education service to a mainstream strategy to a popular strategy for inclusion by integrating special education teachers into general education content classes. Most definitions stress collaborate teaching as a collaboration between special and general education teachers for all teaching responsibilities for all students. The process requires special education and general education teachers to be in the same room during the same lesson, both participating in instruction but with roles that vary according to lesson goals and student needs. Collaborative teaching can be a constant structure, or short term collaboration for a specific unit of study. But always, Co-teaching is a system which requires attention to detail, time and materials, developmentally appropriate curriculum, instructional skills, suitable adaptations and accommodations and expertise in content area.
Related Research Paper Topic Suggestions