Weapons in schools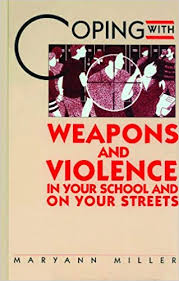 Order a research paper on Weapons and Violence in Schools and you may find surprising statistics. A recent study by Paper Masters research found conflicting data with public perception. That is the wonderful part of using Paper Masters for research paper writing - We can dig through the rhetoric and find you the truth about research topics while our expert writers write you a custom project on the truth about weapons in schools.
Data published in The Sourcebook of Criminal Justice Statistics shows that school violence may not be as prolific a problem as the media would have us believe:
The proportion of students reporting being threatened or injured by a weapon at school was actually lower in 1996 than in 1976
Violence-related injuries are rarely suffered at school compared to elsewhere
A 1997 Department of Justice survey of over a million violence-related emergency room admissions recorded that 6% occurred at a school

while 48% were incurred at home
29% at work
15% were received on the street

In 1998, schools were safer relative places to be than homes, workplaces, or the street.
Weapons in Schools and Perception
The perception that violence, especially lethal violence such as mass shootings, is widespread or presents a realistic threat to students in most schools does not agree with data on school violence. Schools remain one of the safest places for children to be, and extreme measures are not called for in order to counter school violence.
Two reports by the Justice Policy Institute, one from 1998 and one from 1999 (released in 2000), suggest that school violence has been greatly exaggerated in the context of the overall violence that children are subjected to elsewhere in their lives through bullying, and the authors suggest that ill-conceived legislation and school policies based on reactions rather than on research are detrimental to children. Their papers serve as an introduction to research on the causes of school violence, and reiterate the necessity for rationally evaluating programs and implementing proven methods to reduce school violence.
Weapons in Schools and Policy
A research paper on school violence may also investigate the impacts of certain popular policies for addressing the problem of weapons and violence in schools. One of the most widespread of these policies is "zero tolerance," which usually involves the unquestioned expulsion of any student deemed to be in violation of rules prohibiting weapons on school premises. Research by educators from Indiana University and the University of Nebraska-Lincoln shows that the model was adopted from absolute sanctions against drug abuse in the armed forces. Yet various studies have shown that zero tolerance policies intended to bar serious weapons from schools have led to expulsions of students for bearing slingshots, toy guns, and objects that simply seem weapon-like. Harvard University's Civil Rights Project co-published a report demonstrating that, thanks largely to the overreach of zero tolerance, in 1997 alone a shocking 3.1 million students were suspended. Worse still, other research shows that "tough" and hard-line responses such as zero tolerance, "scared straight" treatments, and boot camps do little to make schools safer. As such, concerned organizations like the University of Virginia's Curry School of Education advocate more flexible responses to school violence that replace the emphasis on punishment and "scaring" students away from violence with more balanced, tailored, problem-solving strategies. Instead of relying inflexible blanket policies, these approaches work pro actively to prevent school violence. They assess the actual threat posed by specific weapons violations and prosecute them proportionally.
Related Research Paper Topic Suggestions