Educational Objectives Assessment Plan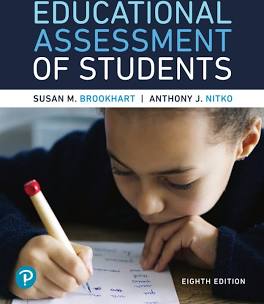 Does this Educational Objectives and an Assessment Plan assignment look familiar? Many professor's assign topics just like this and our writers custom write each one.
This task requires that you to select a subject area, topic, and grade for which you will identify instructional objectives and construct an assessment plan in which you link the assessments with the objectives. You will be expected to include different kinds of objective questions, essay questions, and at least one performance or product assessment and an instrument to score it.
You will also indicate how technology will be related such as how it will be employed in teaching and/or the assessment and how the needs of diverse learners will be handled. Explain effective teaching methods and teaching skills an educator must use when teaching their lessons plans to these diverse learners.
Include the following:
(1) Educational objectives

(2) A set of at least 3 observable performance criteria for judging education performance or a product, and a rubric to score it

(3) The rationale for the different types of questions (multiple choice, short answer, matching, true false, essay) and assessments

(4) A general overview of the learning activities. THIS IS NOT A UNIT PLAN or a teaching lesson so your focus is on assessment, not the instructional delivery which can be summarized. The relationships of items 1-4 should be explained in 4-5 pages (maximum) and items such as the rubric and test questions should be appendices.
The following criteria will be used to assess your plan.
1. The construction of the assessment and the rationale i.e. the relationship between the educational objectives and assessment

Use of multiple assessments
Satisfactory statement of items on assessment tools
Link of assessments with instructional objectives
Appropriateness of assessments

2. Rubric

Use of appropriate criteria
Consistency in development of rubric
Clarity of statement

3. Correlation to NJCCS

Clarity of statement
Grade and subject appropriate

4. Technology Use

Relation of technology in a classroom to learning activity or assessment
Discussion of relevant issues such as availability, advantages, etc.

5. Attention to Special Needs Students

Accommodations
Rationale
Appropriateness

6. Learning Activities

Link to higher and lower level objectives
Differentiation
Related Research Paper Topic Suggestions
Educational Objectives - Educational Objectives research papers discuss how objectives help to focus the lesson, provide learning goals for students, and help teachers form a basis for evaluation.