Affluenza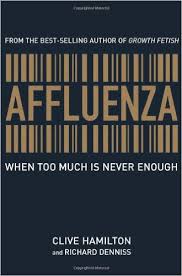 As a term, affluenza is a combination of the words affluence and influenza, suggesting a sort of illness or epidemic of consumerism. In the United States, as well as in other nations, individuals struggle to make ends meet financially, though many still want to possess luxury consumer goods. Often, in order to have these social symbols of value, many will put themselves farther and farther in debt, causing themselves feelings of being overwhelmed, anxiety, and stress. These negative reactions often do not prevent one from continuing the cycle of debt, as many would prefer to suffer in comfort than not.
Affluenza can also refer to the inability of a person to fully understand the significance or ramifications of their actions as a result of their financial status. Individuals who have a high social ranking, usually as a result of their perceived wealth, are seemingly held to a different standard than the masses. Celebrities and wealthy socialites found guilty of crimes, for example, are often given a much more lenient sentence than an average person found guilty of the same crime. One of the most famous cases of this was seen in Ethan Couch, a Texas teenager from a wealthy family who was initially only sentenced to ten years' probation after killing four pedestrians while driving under the influence. His defense was rooted in the fact that he didn't understand the cost of his actions and that he deserved rehabilitation as opposed to incarceration. Ultimately, he was sentenced to approximately two years in prison for his actions, a sharp increase from the initial sentence but a punishment that many still do not see as severe enough for his crimes.
What would happen to the American economy if people stopped buying things they really didn't need? Not modern-day necessities such as computers or televisions, of course, but things that people really do not need to have in order to live in the contemporary world.Things like wheel spinners, popsicles made especially for pets, or computer screen savers. How much of a hit would the American economy take if people decided to really and truly buy only those items that made their life a little bit easier?
There is a movement afoot in America and although it covers many aspects, for ease of use it generally described as the Affluenza. What is Affluenza? Affluenza is an unofficial anxiety disorder caused by the constant pursuit of more and more stuff, even when it means going into debt to acquire it. Affluenza is also based on the concept that the most people in America consume to achieve happiness, while the evidence keeps building that more they consume less happy they really are. Adding to this is a growing anger that many participants in the Affluenza movement feel is the idea that the politicians are working in concert with big business to convince and coerce people to buy things they could very happily live without in order to keep the American economy churning.
The concept of Affluenza can trace its roots back to Thorsten Veblen. While that isn't a name most people are likely to recognize, they are no doubt familiar with a term that sprang from him: conspicuous consumption. Thorsten Veblen coined the term conspicuous consumption around the turn of the century as the gap between the rich and poor in America took its first noticeably large leap. Veblen wrote extensively of what he called "pecuniary emulation" which really means nothing more complex than "keeping up with the Joneses." Veblen asserted that people spent beyond their capacity in order to attain a kind of honor. Today Veblen's honor has devolved into mere status (Bowles and Park). And just about every commercial aired on television or radio or every advertisement printed in a magazine works not to show somehow how a product actually is used, but rather how it can help them attain that status.
Affluenza is the result and the effects can be seen in the following forms:
People making a concerted effort to lessen the number of their belongings.
Violent social activism such as the rioting in cities where international economic summits are taking place.
People attempting to respond to the causes of Affluenza can be something as simple as choosing to buy generic instead of brand name clothing.
Other responses may be as complicated as selling a large house and moving into a smaller and less expensive places.

What is interesting about the concept of Affluenza is that it can speak to so many people in so many different ways.By the time a person reaches their 30s the effects of mass consumption usually begins to be felt. By this time most people have married, maybe had children and possibly have bought a second house. Often the realizations hits, in fact, during the process of moving from one house to another. How is that even childless couples often find themselves needing a full sized moving truck to get all their belongings from one place to another. Affluenza may be a metaphorical sickness, but very often it comes upon a person more like a heart attack or a stroke; they look at everything they own and see how much of it is, in all honesty, junk. Just stuff that they've bought seemingly on a whim or impulse but that may, in all actuality, have been bought as a result of the power of advertising.
Related Research Paper Topic Suggestions