World Economies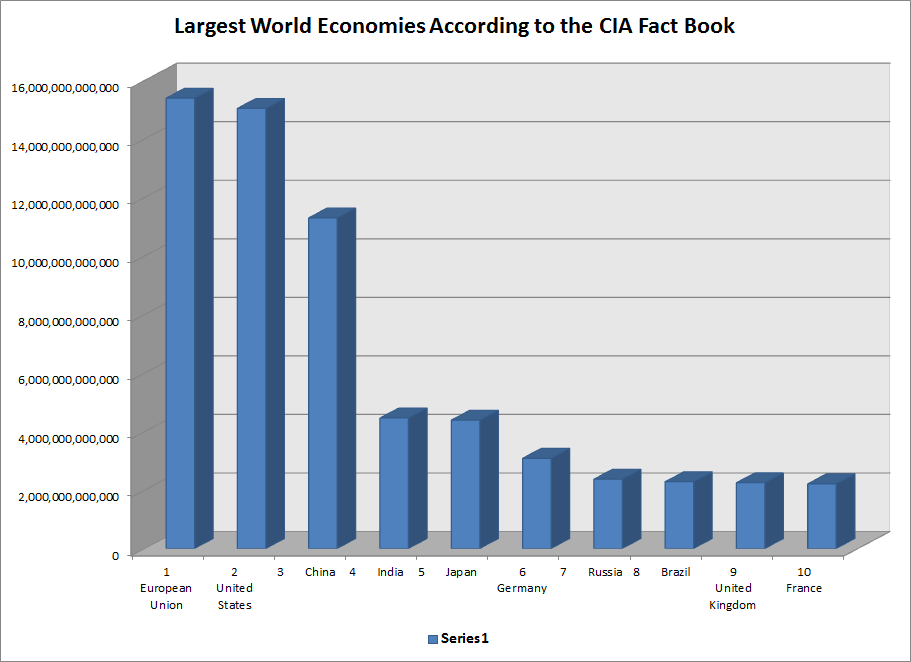 Research papers on world economies discuss the economic aspect of the global community and how one nations economic status affects others. The economic history of a world economy can also be studied.
The economies of all of the world's nations are, in one way or another, linked together. For much of the twentieth century, the world's economies were divided in two: communist or capitalist. While the end of the Cold War greatly reduced the number of, and influence of, communist economist systems, there are still several major state-controlled economies in the world, especially China, one of the world's largest.
If ranked by GDP (gross domestic product), the five largest economies in the world are:
When aggregated, however, the European Union has the largest GDP in the world, making it the biggest economy in the world. According to estimates, the world economy was worth some $83 trillion.
World Economies and China
China, the second largest of the world's economies, practiced a Soviet-style centrally planned economy from 1949 to 1978. After Mao's death, the government began moving towards a mixture of free market and state control. Modern China can be characterized as having a market economy based on private ownership controlled by a single-party government, known as state capitalism. Under this hybrid system, China has grown to become the world's largest trading partner.
The interconnectedness of the world's economies was highlighted in 2009, when widespread deregulation of the U.S. financial market led to the Great Recession, which deeply affected not just the U.S., but Europe and Japan as well.
Related Research Paper Topic Suggestions