Black Market Arms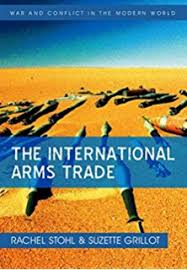 The sale of arms to developing countries via the black market by the world's largest countries is a long established practice. In recent years, various initiatives and resolutions have proposed the sale of arms only to those countries that prove they have human rights initiatives in place and are friendly to the pursuits of democracy. In spite of these efforts, sales in the billions have taken place with countries run by dictatorships as well as those who have gross records of human rights abuses. During the last decade especially, U.S. foreign policy has relied on the sale of arms to non-democratic foreign countries in the interest of increasing regional stability and its own position within these areas. Yet despite these well-reasoned intentions, the sale of arms to unstable regions has not only resulted in increased political and economic instability, but also increased the likelihood of armed conflict between countries within such regions.
Almost $2 billion dollars worth of arms change hands in the black market on a daily basis around the world
$10 billion yearly sales
Most of these sales are to developing countries by way of both government-to-government sales and through the black market.
Even though policies do exist that guide who developed countries should and should not sale arms to, economic realities usually overweigh these guidelines.
Arms sales to countries with slack human rights policies and non-democratic governments are a major concern for both well-developed countries and human rights organizations. Since the end of World War II, an estimated 25 million people have died by way of guns, grenades, mines, rifles, and mortars, most of them civilians. The number of innocent killed by small arms in the last several decades has highlighted the need for regulations regarding international arms sales. In 2000, word spread that the United States, led by Clinton, had secretly armed and trained Indonesia's death squads, which have been linked to the deaths of more than 200,000 East Timorese. Another expert claims that the Rwandan genocide that resulted in the deaths of millions was carried out with approximately $25 million in imported arms.
While many countries are now closely monitoring their sales of small arms to the Middle East and Near East regions, the sales of illegal arms are still going strong. Recent estimates of the illegal arms market range from 10-50 percent of that of the legal arms market. Many of the arms sold on the illegal market are not new. These weapons are used by both criminals and groups that are unable to obtain weapons by the normal channels.
In addition, there are "gray" markets whereby governments deliver arms to rebel groups in the hopes the groups will succeed and further the causes of the supplying country. For instance, groups in Ethiopia, Angola, Namibia, Mozambique, and South Africa were supplied with arms by the Soviet Union and the United States supplied arms to groups in Cambodia, Afghanistan, Angola, and Nicaragua. Through this so-called gray market, the two superpowers attempted to undermine each other by supplying arms to each of the superpowers enemies.
Several initiatives have been proposed over the last decade for more responsible arms sales on a global basis. One initiative for regulating the sale of international arms was proposed and led by the commission of Nobel Peace Prize winners in 1999. Led by former Costa Rican President Oscar Arias, the proposed International Code of Conduct would require countries to sell only to those countries that meet certain standards. These standards include a respect for democracy and human rights. Another initiative is called the Organization of American States that supposedly restricts the black market sales of arms to countries with known drug cartels and guerrilla warfare units. In design, the pact requires government approval for gun buyers as well as the requirement of buyers to register for gun ownership. The problem with such proposals and pacts is that neither governments nor the UN keeps good records of light arms sales
As in Britain, the sale of arms to developing countries by the U.S. is backed by economic objectives on one front and the need to help countries stabilize politically on the other front. According to White House documents, approximately 48 percent of the arms sales between the years of 1993 and 1996 were to undemocratic states. This large percentage sends a clear signal to the world at large that short-term economic benefits override world stablization and security concerns. Despite this, the U.S. continues to claim publicly that its overriding concern is the stabilization of foreign governments. While the message made clear the intention of the U.S. to continue selling arms to both democratic and non-democratic governments, it failed to state how the country would handle issues such as human rights abuses and peacemaking initiatives.
Given the recent unrest in the Middle East, concentration is now being centered on arms sales to countries in this region. U.S. arms sales to some countries in the Middle East are based on the assumption that such sales strengthen regional security. Yet the exact opposite could prove true if internal strife were to break out in these countries.
Related Research Paper Topic Suggestions