Attorney General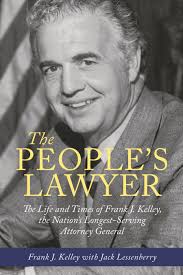 Research papers on the Attorney General of the United States report that he or she is the chief legal officer for the government of the United States of America. He serves for all citizens, not just for the government.
Powers attributed to the Attorney General include, but are not limited to, the following:
Issue formal opinions to lower agencies, including states
Be public advocates for citizens in regards to consumer issues
Help enforce state and federal laws
Represent the federal government and the states in court
The Inspector General reports directly to the Attorney General whenever they have reasonable grounds to suspect a violation of federal criminal law. Other departments and agencies may refer legal matters to the DOJ only through the general legal counsel of their agency or department. In effect, this makes the Attorney General at the DOJ an arm of the DOJ, codifying the working relationship between the Attorney General and the DOJ criminal investigations divisions. This delineation of relationships was necessary due to some of the practices that had developed in many offices during the Reagan administration. It had become the practice of some Attorney Generals to expand the scope of their investigations beyond that authorized by statute.
In many cases, evidence of wrongdoing by federal employees pointed to contributory or collateral wrongdoing by individuals who were private citizens and were not directly tied to the federal government by contracts, grants or other financial links. In order to pursue the investigation, the Inspectors General at times exceeded their statutory authority by interviewing and obtaining records from private citizens. Often, this was at the request of the DOJ itself in order to gather additional evidence and information regarding the activities of private citizens who were already under suspicion. This was contrary to the intent of Congress in creating the OIG. Inspectors general were not given the mandate to investigate criminal conduct outside of the federal government itself, which was supposed to remain within the scope of authority of the DOJ.
Related Research Paper Topic Suggestions