John Hinckley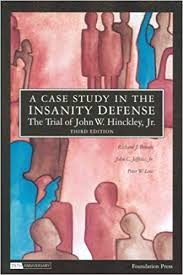 John Hinckley research paper due and don't know how to start it? How about like this?
The Merriam-Webster's Collegiate Online Dictionary suggests that there are three criteria for being referred to as an assassin. The first criterion involves the fact that the assassin has either killed or attempted to kill. The second criterion indicates that the victim is a "politically important person." And the third and final criterion suggests that the individual receiving the label of assassin is motivated to commit this murder either by being paid to do so by other individuals or is motivated to commit this murder based upon his or her own "fanatical motives." These three criteria indicate that John Hinckley was an American assassin. The purpose of this paper is to illustrate that Hinckley qualifies for this terrible label.
Hinckley the Assassin
The first criterion to be called an assassin is to murder or attempt to murder. On March 31, 1981, John Hinckley approached the then president of the United States, Ronald Reagan, and shot him. Fortunately, President Reagan survived the shot. Hinckley was apprehended at the scene with his gun in his hand. There was little doubt that he had shot the president. Photographs of the event exist. When questioned, he admitted that he had intended to murder the President of the United States.
Hinckley's Motivation
The second criterion as stated above indicated that the individual who is murdered or attempt to be murdered has importance politically. The President of the United States has been referred to as one of the most politically powerful individuals in the world.
Many presidents of the United States have been involved in assassin attempts. Those having survived such efforts were Theodore Roosevelt, Franklin Roosevelt, Harry Truman, John Kennedy in a car bomb incident, Gerald Ford on two occasions, and Ronald Reagan. There have been four presidents who did not survive but were murdered by assassins:
James Garfield
John Kennedy
During that period, Reagan was, perhaps, the most powerful person within the political arena in the world. Thus, Hinckley's selection of Reagan as a target also contributes to Hinckley's designation as an assassin.
It is the last criterion that is the most arguable with regard to classifying Hinckley as an assassin. This criterion is that the motive must either be one of financial gain or "fanatical motives." The difficulty is whether an individual who has been excused for his crime by reason of insanity still qualifies as having "fanatical motives." In other words, can delusional thought patterns be the basis for an assassin's actions? Even now, individuals debate over whether Hinckley should be released from the asylum where he was placed.
Related Research Paper Topic Suggestions