Criminology The Core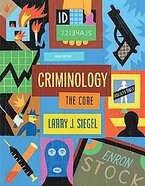 Larry J. Siegel is one of the premier researchers on criminology. His textbooks are used in thousands of Criminal Justice courses across the United States. Paper Masters can custom write you a research paper using his textbook, Criminology: The Core, as the basis for research for your paper.
Possible topics to write on using Criminology: The Core as a basis for research:
Part I: CONCEPTS OF CRIME, LAW, AND CRIMINOLOGY.

Crime and Criminology.

The Nature and Extent of Crime.


Part II: THEORIES OF CRIME CAUSATION.


Social Process Theory.

Social Conflict Theory.

Developmental Theory.


Part III: CRIME TYPOLOGIES.


Terrorism and Political Crime.

Property Crimes: White-Collar, Blue-Collar, and Green-Collar.

Public Order Crimes.

Cyber Crime, Technology, and Transnational Crimes.
Sample of Research Paper Introduction Using Siegel's Textbook
Below is a sample beginning to a research paper that uses Siegel's textbook and examines the use of theoretical arguments from the Part II of the text to explain the murder of Abel at the hands of Cain.
While the chapter begins by asserting that most theories of criminology generally fall into the two categories of choice theory or trait theory, the variety of different theories that the rest of the chapter outlines make it almost impossible to believe that it is an either or situation. For example, the behavioral view of trait theory, which suggests that children imitate the behavior that they observe doesn't seem that different than the choice view of delinquency; if a child observes that delinquent behavior is rewarded, he or she will feel that the benefits of such behavior outweigh the risks, which seems to reveal that behavioral patterns are not quite indistinct from choice theory. Further, the notion of choice seems connected to the ideas expressed in cognitive theory, which deal with the individual's perceptions of the world. Someone who exhibits delinquent behavior would seem likely to perceive their social surroundings improperly, which would help them make a choice for delinquent behavior.
Criminology: the Core Theory
Because of this, it seems puzzling that the nature of punishment doesn't try more to integrate strategies that address both choice and trait theory concerning delinquency. While choice theory advocates recommend deterrents and strong punitive penalties for curbing delinquent behavior, trait theory emphasizes therapy and counseling. It seems clear that because the causes of the behavior are not distinct from one another, more emphasis needs to be placed on integrating both preventions strategies as a way to truly help correct delinquent behavior.
Related Research Paper Topic Suggestions