Herzberg Theory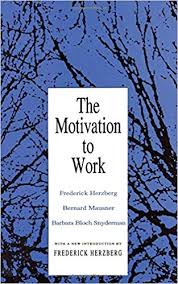 Herzberg theory is used in many business and MBA courses to examine employee motivation. The research from Paper Masters notes that Herzberg (2003) presents an individualistic style of motivation based upon the psychological theory that people will be motivated by the notion of two different needs being met - the drive to avoid pain (Hygiene) and the need to grow in one's job (Motivators). Get help from us in explaining Herberg Theory in a research paper for any type of class on motivation.
American psychologist Frederick Herzberg, in studying organizations, created one of the most fundamental theories in modern business management. The Herzberg Theory, also known as the Two-factor Theory or the Motivator-Hygiene Theory, argues that there are certain factors in one's workplace that can cause job satisfaction, while a separate set of factors can lead to dissatisfaction. Each of these act independently of one another.
Herzberg used the work of Abraham Maslow's theory of motivation as an intellectual foundation for his work, and discovered that individuals need higher-level psychological gratification in their work; a pleasant working environment is not sufficient. The Herzberg Theory adds to Maslow's hierarchy of needs two factors, one of which leads to satisfaction, while the other leads to dissatisfaction. Both motivators and hygiene can contribute to these states.
Hygiene factors are those that can contribute to dissatisfaction. Herzberg used the term "hygiene" in the sense that these are maintenance, and that their absence will cause an employee to increasingly become dissatisfied. These include hygene factors are:
Job security
Salary
Fringe benefits
Vacations
The Herzberg Theory therefore has four possible combinations. High hygiene and high motivation leads to an ideal situation. High hygiene and low motivation leads to few complaints but employees not motivated by more than the paycheck. Low hygiene and high motivation results in exciting work with numerous complaints. Low hygiene and low motivation is the least ideal, where non-motivated employees have numerous complaints.
Herzberg examined several studies of factors that cause job satisfaction or dissatisfaction and the conclusion of each illustrated in the article was that motivators were the primary cause of satisfaction and hygiene factors were the primary cause of dissatisfaction. Herzberg also points to several studies that illustrate the need for motivators in the workplace in order to increase job satisfaction and employee productivity.
One such theory is Positive Kick in the Ass. Positive KITA, on the surface, seems to be a viable methodology. However, according to Herzberg, positive KITA is motivation but only serves to be motivating by "seducing" the employee into "kicking" (i.e. motivating) his/her own self. Herzberg asserts that positive KITA exposes the following myths about motivation. For example, reducing time spent at work actually motivated people to seek more time away from work; Attempts to give raises as motivation gave management the idea to motivate through wage reductions more often; and fringe benefits began as a motivator but actually drove up the cost of the wage dollar 25 percent. Thus Herzberg concludes "factors involved in producing job satisfaction (and motivation) are separate and distinct form the factors that lead to job dissatisfaction". This dissatisfaction-avoidance factor is called hygiene and includes the following intrinsic characteristics of the workplace: company policy and administration, supervision, interpersonal relationships, working conditions, etc.
Related Research Paper Topic Suggestions