John D. Rockefeller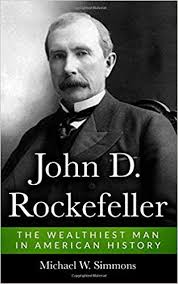 The purpose of a research paper on Rockefeller is to explore, in depth, what made "success stories" out of Americans who were inspired to be creative, resourceful, ambitious "shakers and movers" in their time periods. John D. Rockefeller is the epitome of the American businessman as icon. He was religious to a fault, thrifty, and with several other individuals, established America's dependence on the petroleum industry through his company, Standard Oil. He was born July 8, 1839 in New York but moved to Cleveland, Ohio in 1853. Interestingly enough, his success in life as both a businessman and a man of devout faith can be immediately traced to the influence of his parents.From his father Rockefeller seemed to have received the unique ability to spot a deal and market it to his advantage.
Questions to Consider when writing John D. Rockefeller Research Paper
How did he get his start?
What, if any, formal education did he have?
What were their parental influences like?
What character traits enabled him to be successful?
How and where were these personal traits exhibited?
What obstacles did he have to overcome and how did he overcome them?
What inspired him to do what he did ?
At what personal cost (monetarily, emotionally, physically, etc.) did he reach his goal or achieve his accomplishment?
What were the strategies he used to be successful in his endeavors?
What was his management style?
What was his personal philosophies about people, success, problem solving, etc.?
What is his legacy to us TODAY? How did he impact thinking, attitudes, and accomplishments of later generations? What do we have today that is a "spin-off" or continuation or modification of his success?
Did he have a "dark side?" What was his faults/weaknesses/personal problems? Did he overcome his personal flaws? Why? Why not? How? What did his rivals/foes/enemies have to say about them?
SCOPE: In this research paper you will need to write about how Rockefeller represent the "spirit of entrepreneurship" by his successful endeavor to invent, design, create something new or improved, or accomplish something "ground breaking" in his field. The focus here will be biographical; that is, your research will focus on the person's life and accomplishments.
In 1870 Rockefeller, with his brother William, Henry Flagler, Samuel Andrews, Stephen Harkness, and a gentleman named B.O.B. Jennings, formed a new refining enterprise based on the existing refining business and called it The Standard Oil Company. In terms of total output at the time The Standard Oil Company owned approximately 10% of the refining business across North America. At this point, Rockefeller's reputation as a Robber Baron seemed destined to be permanently fixed since with the formation of this new company he alighted on a new strategy for growth based on the monopolization of the industry through consolidation. This strategy is generally accepted by historians to have been conceived and executed on in 1871 since in that year all of Cleveland's banks joined The Standard Oil Company's organization and funded its rapid expansion through acquisition. This became known as the master plan for the entire industry and only fueled later speculation and criticism of Rockefeller's business methods and moral turpitude. This master plan to control and consolidate the industry led to perhaps the greatest criticism of Standard Oil and Rockefeller as a Robber Baron concerned only with enterprise and profit. However, even before Rockefeller could move on his master plan he got involved in something called the South Improvement Scheme which was an enterprise approved by the Pennsylvania legislature that formed a combine consisting of oil refiners, distributors, and transportation companies, mainly the railroads that would have monopolized the industry completely and led to artificial price control. While Rockefeller was perhaps unjustifiably accused of originating the scheme he was certainly guilty of actively pursuing and participating in its setup. The South Improvement Scheme to monopolize the entire industry ultimately failed but Rockefeller, because of his natural reclusive nature failed to publicly answer charges of complicity thus permanently tainting his reputation. Yet, the failure of the South Improvement Scheme only led to the more avid execution of Rockefeller's master plan and Standard Oil began buying all its competitors in the Cleveland region.
In 1874 Standard Oil began building its own pipeline network for oil transportation which would cause a seismic shift in the industry and forever cement it in the global economy. With the introduction of pipelines the oil industry's economies of scale improved even further and whatever barriers the industry faced in becoming the energy source of choice evaporated with its newfound cost-efficiencies. By 1879 Standard Oil, under Rockefeller's guidance had succeeded in buying most of its larger competitors such as the Imperial Refinery, Warden, Frew & Co., and a host of other regional and out of state refineries. By building more and more pipelines and purchasing ever more rail cars and negotiating percentage transportation deals with the railroads, Standard Oil managed to monopolize the entire industry and by that year of 1879 Standard Oil, controlled by Rockefeller, owned 90% of the oil refinery business in the US of which 70% of its productive output was exported to overseas markets. By this time Standard Oil's business case and structure was so complex Rockefeller was only managing the broader strategic relationships and decisions and he was still only 40 years of age. The only competition so to speak of for Standard Oil came in the form of the Tidewater Pipeline Company which would later become the Tidewater Oil Company and gained prominence from 1879 to 1883. Rockefeller was not prepared for this little competitor to so quickly rise to prominence and all his efforts to acquire it failed. Although this was a serious competitor it only had 10% of the market in the petroleum industry.
Related Research Paper Topic Suggestions