Conflict of Interest and Corporate Ethics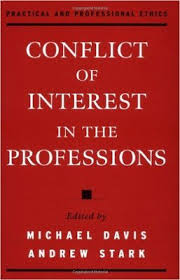 This is a topic suggestion on Conflict of Interest and Corporate Ethics from Paper Masters. Use this topic or order a custom research paper, written exactly how you need it to be.
Ethics at the corporate level is a topic that has been increasingly prolific in business and MBA course work. Ethical considerations in corporate America are under close scrutiny from the public eye ever since Enron and other corporations have clearly illustrated that they cannot be trusted with other peoples hard earned money. In light of scandal, college professors believe that it is prudent for business students to clearly understand all elements of corporate ethics, particularly conflict of interest situations. Some great topics for a business administration research paper on conflict of interests and corporate ethics are:
Enron - How did corporate America ever get there
The environment and corporate social responsibility
Should there really be such as thing as "corporate ethics" in a capitalistic society
Business Ethics and Conflict of Interest
A research paper on conflict of interest and business ethics should begin by defining exactly what constitutes a conflict of interest. This is often a gray area and needs examples to boost an argument in a research paper. For example, a conflict of interest may arise when family members work together and preferential treatment is given due to the relationship between employees or the employer. This is such an extremely popular problem that the government has even had to intervene and prohibit family members from working together in public sector jobs. The private sector has not been regulated in this manner but that angle would make interesting research for an MBA level research paper. Examining whether to regulate or even how to regulate conflict of interests in the private sector would be fascinating and original research. The reason that this research is encouraged by Paper Masters is that all managers and business personnel, at some point in their careers, will run into conflict of interest issues in corporate ethics.
Corporate Ethics and Business School Students - Starting at the beginning
Many critics have contended that business schools have previously failed to fulfill their responsibility to discuss ethics in the business classroom. However, this trend has changed in recent years. Recent corporate scandals have reinvigorated public interest in business ethics. Additionally, student interest in the teaching of business ethics has increased. Stephen Hallam, the Dean of the College of Business Administration in Akron, explained that:

The students are suddenly interested in businesses' ethics used to be if you said 'business ethics' students would roll their eyes. Now it's the hottest topic going.

Such blemishes demonstrate a real need for the academic worth to attempt to instill values into business leaders; such a move resonates with the majority of the nation's population. These scandals also reinforce a prevalent stereotype that the goals of business, such as the generation of a profit and the accumulation of wealth for relevant stakeholders, are fundamentally inconsistent with ethical behavior. Machan (1992) points out that this negative appraisal is also widespread in the academic environment and that many professors belief that business is inconsistent with moral behavior (p. 3). This skepticism may easily be transferred to young business students, who may believe that they must choose between acting ethically and striving to attain maximum profit.

Business ethics courses taught within the academy provide a strategy for combating such a stereotype. It also helps to reaffirm to the future leaders of industry the importance of conducting business in an ethically responsible manner. Ronald Sims, (2002) the Floyd Dewey Gottwald Senior Professor of Business Administration in the Graduate School of Business at the College of William and Mary emphasizes the link between leadership and business ethics when he explains that:
"Clearly, business schools interface with a large portion of our future leaders and occupy a strategic position from which to make a contribution to their ethical and moral development this means that business schools must increase ethics teaching in their curricula".
Business professors, in particular, have demonstrated a renewed interest to teach business ethics as part of a standard business curriculum because the majority of individuals associated with such scandals have educational backgrounds in business. For example, one of Enron's top executives graduated from the Harvard school of business; another graduated from the prestigious Kellogg school of management at Northwestern University. These scandals cast doubt upon the quality of education being presented by the nation's best business management programs. Sachdev (2003) notes that business programs and schools are now:

...taking a hard look in the mirror after being impugned in the recent wave of corporate scandals at Enron Corp., WorldCom Inc. and others. Many of the executives allegedly behind the corruption have MBAs To prevent more of their grads from becoming the stuff of sordid headlines, business educators are taking a new look at their ethics and leadership training.
Most business schools offered an ethics course even before the most recent wave of scandals. However, the negative publicity generated by these scandals has prompted many programs to make an ethics class mandatory.

Perhaps surprisingly, much support for the education of business ethics has also resounded in the business community. For example, Arthur Anderson has provided grants to fund business courses for prospective recruits (Sachdev, 2003). Companies are increasingly recognizing that ethics must be incorporated into the successful planning and implementation of members of the business culture. Cooperation between business sponsors and academic leadership may help to develop business curriculums that incorporate relevant ethical topics that are likely to impact the longevity and success of the company.

Ethics may impact all facets of the employment process, including hiring and firing. For example, human resource professionals may develop strategies to deal with business contacts that are also family relations. While the legal system gives clear procedures for the handling of certain forms of discrimination, the law is largely silent on ethical issues concerning the hiring and firing of qualified applicants related to current employees. Often, employees will recommend open job positions to friends and relatives. While preferring a family member through the interview process may not necessarily be deemed illegal, it might be considered unethical and it is certainly a conflict of interest. Employees may perceive family members and friends as receiving special treatment, such as faster job promotion or the enjoyment of special privileges. Such perceptions hinder company unity and increase the likelihood of decreased productivity.

Supervisors and those responsible for interviewing and choosing candidates must ensure that they treat all candidates ethically. The company would never choose to cease the hiring of anyone related to a current employee: such a policy would be unenforceable and unnecessarily coercive, but most importantly, such a proposal would rob the business of a pool of qualified candidates who already have the advantage of being familiar with the company's reputation and culture. Current employees of the company are very good at perceiving the qualities necessary for successful employment at the company, and the active referencing of family members or friends for relevant positions is no doubt appreciated by the Office of Human Resources. As a result, a good ethical practice would be for the HR official to find someone else to carry out the job interview and to ensure that relatives do not supervise or work with each other whenever possible.

How might business ethics best be taught in business schools? Advocate divide into two basic camps, those who believe that separate business ethics classes should be taught to highlight the importance of the topic and those who believe that business ethics should be a component of every business class.
In reality, these two options are not mutually exclusive. Schools may develop specific business ethics courses that focus on this goal alone. However, one token business ethics class is unlikely to change radically prevalent opinions. However, schools may offer such classes combined with the agreement of professors to include ethical components into their standard business courses. This is an especially strong strategy for use in case study evaluations, since business students may see how ethics function within a particular context. In order to help illustrate this point, this paper now presents a brief summary of the case of WorldCom and the importance that the lack of ethical conduct played in this corporate scandal.
Related Research Paper Topic Suggestions