Kirchner Street Dresden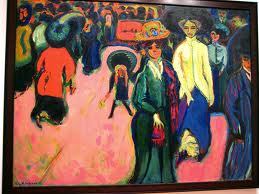 This is a topic suggestion onKirchner's Street, Dresden from Paper Masters. Use this topic or order a custom research paper, written exactly how you need it to be.
A research paper on this work of art will attempt to discuss Ernst Ludwig Kirchner's painting (oil on canvas) Street, Dresden. This painting currently hangs in the New York Museum of Modern Art. It is a large (roughly 5' x 5'), boldly colored, very striking painting. The style of the painting is representational, but only partially realistic; there are definite blurrings and distortions in it. This is a powerful piece of art and it invokes powerful feelings.
In order to understand this picture one must understand an important fact about German expressionism generally, and another important fact about that school of art that was close to being expressionist, "Die Brucke" (The Bridge), in particular. There are two very important points that a research paper on Street, Dresden will want to point out:
Expressionism Era
The Die Brucke movement
First, the great period of expressionism lay in the future when this painting was created (1907), but one of the fundamental ideas of expressionism, was already coming to the fore and making itself felt, and it can be seen working in this picture.
That idea was, in the words of Werner Haftmann, "to make nature expressive by enhancing its visual features(I:81)".
Second, "Die Brucke" was an artistic movement at a transition point between impressionism and expressionism, but more importantly, it was a movement that was based on a definite philosophy, a philosophy based on Nietzsche, who said, "What is great in man is that he is a bridge and not a goal." "The Bridge" was a movement of young elitists; Kirchner was one of the foremost among them; it was based on an intellectual creed. These two facts, expressionism's willingness to change what we see in nature, and "Die Brucke's" philosophical base, help one to understand Kirchner's painting.
Related Research Paper Topic Suggestions