Beach Boys God Only Knows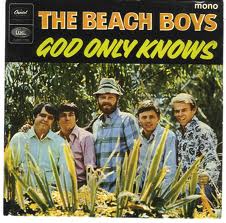 The writers at Paper Masters can explore popular music, era's in music history, various genre's of music and any artist you need explored. For example, this overview of the Beach Boys' song "God Only Knows" is just a small example of a simple essay explaining the meaning behind a brilliant song.
In the Beach Boys' song "God Only Knows," the typical surfer-style music that the Boys were so famous for is very different. Stylistically, the music requires the same instruments, and the song has a beach-feel to it, but the words are quite different. It seems as if, in this song, Brian Wilson, the Beach Boy responsible for writing most of their hits, has discovered a tender side to his beach-style music. Instead of the boyish subjects of surfing, California and hot rod cars, this song deals with young love, and the reliance of one person upon another for acceptance and companionship.
"God Only Knows" is different from other Beach Boys songs in the following way:
"God Only Knows" is a much slower song than the regularly up-beat tunes that the Beach Boys recorded and released in their many decades of professional music careers.
The slowed-down tempo reflects the sincerity and the meaning of the song-requiring that listeners forget the party-boy past of the Beach Boys and accept this more sentimental, loving side of their music.
The instrumentalists still use the many guitars as their main form of musical creation, but their style in this song is reflected by the tune more than it would be if their guitars were used to create a be-boppy-type song about love.
This song is true to its mean, slow in its sincerity, and unique in its standing as a Beach Boys song.
"God Only Knows," as they croon "I may not always love you/But long as there are stars above you/You never need to doubt it/I'll make you so sure about it," the Beach Boys assure their teen girl groupies that love is the only thing that matters. Suddenly, the music takes listeners to the tropic isles where they fall in love with the Beach Boy of their choice, and "God Only Knows" what the teen girls would be like without the Beach Boys as well. "God Only Knows" is a distinct departure from the traditional lyricist stylings of Bryan Wilson.
Related Research Paper Topic Suggestions