Kanehsatake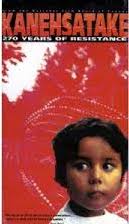 History is not an interpretive study. History is taught in institutions all across America as the study of what happened in the past. How does the North American film and television industry get away with interpreting history for entertainment value only? The answer is simple - money. If there is money to be made, even fortune 500 companies like Disney bow to the almighty dollar and make history into a cute fairy tale, such as the in the case of Pocahontas.
In contrast, Alanis Obomsawin's 1993 award winning film Kanehsatake: 270 Years of resistance provides an in depth view of one of the most dramatic events in modern Indian history. The film details the 270 years of history between the Mohawk and the British, French and Canadians, the pinnacle of which was in 1990 and the Oka Crisis. Guns, warriors in masks, barricades, police, national leaders posturing and finally the army and tanks, choppers and razor wire, all the makings of a classical Hollywood movie. Yet Kanehasatake did not sell movie tickets. Alanis Obomsawin did not see fit to turn the crisis into a cute love story between a Mohawk maiden Kahentiiosta and the handsome white man who was driving her from her land. Kahentiiosta, who participated in the defense and occupation of the pines, a traditional Mowhawk burial ground that was slated for development into a golf course by the town of Oka. The conflict resulted in the raising of army barricades and the siege of Kanehsatake in 1990 by the Canadian Armed Forces. Kahentiiosta was arrested, separated from her young son, and brutally treated by the arresting authorities because she would only give her Mowhawk name. The Oka crisis is still too fresh in the minds of both sides to even venture to allow history, profit or capitalism to cloud the facts.
Natives, in communities across the country, who try to hold on to the traditional ways and ceremonies, are brought up to believe that they are the custodians of the land and hold a special spiritual bond to the land. These people have been under attack for centuries, suffering a slow genocidal onslaught. The people who were at the protest in Kanehsatake, who were shot at, and who stayed in the community until the end, embody those traditional teachings. Pocahontas is a slap in the face to them.
Related Research Paper Topic Suggestions