Hays Code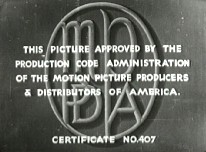 This is a research paper topic suggestion on the Motion Picture Production Code of 1930. It is also known as the Hays Code. Custom art essays are Paper Masters specialty. Paper Masters teaches you how to write on the Motion Picture Production Code of 1930 (Hays Code). Your project is an opportunity to pursue a specific interest in politics and the arts.
Focus of the Research Paper
The primary focus of the research paper should be on the follwoing:
The politics of some area of the arts rather than on the art itself.
Aside from that broad guideline, the definition of an acceptable topic is fairly flexible.
The goal is to produce a paper that will educate a casual observer about a particular art related issue.
Examine a specific political debate in depth.
What Your Professor May Ask you to Do
Research an actual controversy (past or current) over a specific artist, piece of art or area of the law. Your paper might describe the political actors, the nature of the disagreement, the varying viewpoints, and the interactions leading to a resolution.
The development and enforcement of the Hays Code in the early 1930s marks an important milestone in the history of filmmaking as the second response to public criticism concerning the sexual content of films produced and distributed for public viewing as well as the public outcry at the sex scandals associated with Hollywood actors and the Hollywood movie scene in general. The first response to the call for greater oversight came in the early 1900s with the establishment of the National Review Board, which was ultimately charged with being insufficient in monitoring the content of films that came out of Hollywood during the period.

The following research examines the origin and details of the Hays Code, which came almost three decades after the creation of the NRB, including the environment and criticism that spawned its creation. The research will also look at the role and reputation of Will H. Hays, founding director of the Motion Picture Producers and Distributors of America (MPPDA) and author of the Hays Code. The research will attempt to establish that the development and enforcement of the Code was, at least initially, just another attempt made by the industry and its supporters to prevent further scrutiny and attempted censorship After an examination of the purpose and goals of the Hays Code and its ultimate impact on the film industry, the research offers some important conclusions that can be drawn from the literature.
Related Research Paper Topic Suggestions